"Yorsh-11" is an extremely potent cocktail served in several establishments on Cartagena, originating from a bar called "Gop-Stop", run by a terran lady nicknamed Vobla and known for particularly exotic, dangerous or simply extremely potent drinks served there.
Yorsh-11 is a version of regular terran yorsh cocktail (beer + vodka) that was "cranked up to eleven" and made more complex, hence the name. The recipe also consists of 11 parts of different alcoholic drinks.
Recipe: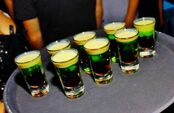 4 parts uncut strong batarian ale mixed with 2 parts non-radioactive, full-strenght ryncol.
2 parts tequila are mixed with 2 parts high-tujone absinthe and 1 part dense mint liqueur.
The two equal measures of these mixes are put together carefully and slowly.
A dash of kopsa powder is carefully mixed in. Once it reacts and a small amount of fine foam appears on top, it is ready to drink. Ice optional.
Yorsh-11, even in small quantities, is said to knock batarians off their feet and severely inebriate krogan, save for the most drink-experienced and resistant of them. Opinions on its taste differ, and "no one drinks such mixes for their tastes, anyway", as Vobla herself says.
The hangover from drinking more than two shots of this concoction is reportedly terrifying and difficult to cure.
Ad blocker interference detected!
Wikia is a free-to-use site that makes money from advertising. We have a modified experience for viewers using ad blockers

Wikia is not accessible if you've made further modifications. Remove the custom ad blocker rule(s) and the page will load as expected.