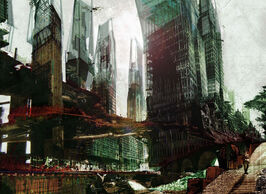 The Rhine Megalopolis is one of the many huge metroplexes covering most of
Earth
's habitable surface. It resulted from the merger of most of the cities built around the banks of the river Rhine. It also includes cities such as Antwerp, Frankfurt, and Rotterdam and it spans across five nations.
Ad blocker interference detected!
Wikia is a free-to-use site that makes money from advertising. We have a modified experience for viewers using ad blockers

Wikia is not accessible if you've made further modifications. Remove the custom ad blocker rule(s) and the page will load as expected.