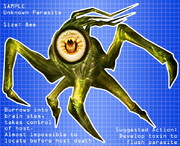 A lifeform unlike any other, and arguably the nemesis of CDN, if the Reapers (pre-Control) don't count.
QoroQ was (is? Hopefully was) an abomination. The creature defies scientific classification, and is capable of multiplying and assuming many forms. Perhaps its most horrific ability is to form parasites capable of infecting and possessing a host's body.
The possession, however, is only the first stage of infection. Given enough time, the parasite will eventually mutate its host into a hostile predator, capable of shapeshifting at will. The creature's apparent ultimate goal is to remove all other forms of sapient life, perhaps the totality of life itself, and replace it with only QoroQ.
Notes
See: Who Goes There? and Who Goes There 2. Despite the events of QoroQ's campaign being made public, a surprising number of people regularly fail to remember what it was, or express confusion over an "advertising campaign", etc.
Ad blocker interference detected!
Wikia is a free-to-use site that makes money from advertising. We have a modified experience for viewers using ad blockers

Wikia is not accessible if you've made further modifications. Remove the custom ad blocker rule(s) and the page will load as expected.