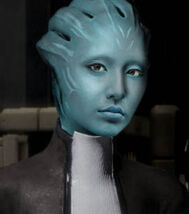 Voniferus
is a young asari, a former
Citadel
duct rat now residing in the Shelter for Underprivileged Children attached to Saint John Paul the Great church on
Tayseri Ward
, where she assists in the running of the shelter and in taking care of other duct rats and homeless children staying there. She posted on CDN as "Voniferus", a pesudonym (literally "perfection" in High Thessian, a goal she aspires to). Following her return after the war she used "MVR" as pseudonym.
Threads of Note
Without A Trace: Helping deal with Flower's abduction.
On the Subject of Duct Rats: Voniferus gives her perspective on the matter.
Reaper War
Private Message: As the Reaper War begins, a goodbye and a thank-you to Davril, Father Kevin, and Flower.
Post-War
Year of Leave: What should she do with it?
A Day On The Town: As hanar and drell chat, an eavesdropping Voniferus eventually gets bored of being ignored and puts on a show at the end.
The Happiest Place on Earth: In Florida, meeting the troubled human Kyle.
And So I'm Seeing You Again: Catching up with Flower.
Whirlwind: Mission on Altahe.
Out-of-character notes
Voniferus's photoshopped appearance is based on images of Linda Park.