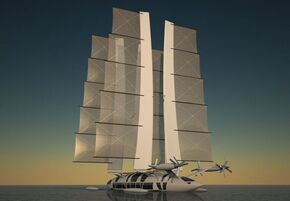 The FuHa (old asari: wind and waves) is a yacht owned by
Taleeze Driana
on
Nevos
.
she obtained for a bargain prize because the volus it was originally built for discovered his sea-sickness shortly before he should have taken over the yacht. The FuHa was about 90% finished and Taleeze did a lot of the rest herself.
The ship has 4 independently movable masts which are controlled by a MySail VI unit. The maximum speed under sail is 70 km/h.
When extended in fully horizontal position the yacht can lift above the water surface using ground effect at speeds up to 200 km/h. Motor propulsion is provided by 360° waterjets and two aero propeller units.
The yacht has a main deck, holding bedrooms and the saloon with a large open deck with easy access to the sea in the back and a partially enclosed upper sun deck and bridge. It can easily accommodate up to 8 people in three bedrooms. All openings can be fully closed by automated windows, which is highly recommended at high speeds.

Taleeze uses the ship for diving cruises to the islands that clutter the shores of the northern continent together with her friends.
____________________________________________
OOC note: The Yacht depicted is a Design by OCTURI
Ad blocker interference detected!
Wikia is a free-to-use site that makes money from advertising. We have a modified experience for viewers using ad blockers

Wikia is not accessible if you've made further modifications. Remove the custom ad blocker rule(s) and the page will load as expected.