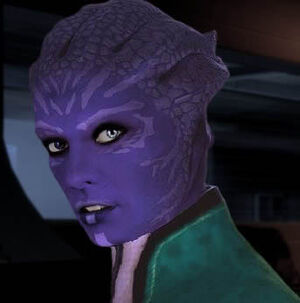 Elara was much the average
asari
who enjoyed camping trips, hunting, swimming, etc. After a tour serving the Republics as an
Asari Huntress
, she and her sister joined
Eclipse
for a spell... which, judging by her later stance on the company (along with the fact that her sister was now dead), went rather poorly.
Hardships and profession aside, she was a cuddly and affectionate sort when off-duty so long as you played nice.
Many thought she would go far in the mercenary profession, but she was killed during the events of Who Goes There 2.
Family
Mother: Matriarch Elliene (Ex-commando, Senior Instructor at the Eisley Biotics Academy)
Father: Goronak Mor'Goth (Ex-freelancer, Blue Suns Infantry Commander, deceased.)
Sibling: Aayla T'Meyra (Eclipse Commando. KIA)
Past Employers
Maxmillian van der Trask, CEO of Trask Interstellar
Binary Helix
Elanus Risk Control Services
Eclipse
Daia T'Nara
Conatix Industries
Elkoss Combine
Sonax Industries
Threads
Right Place, Right Time: Meeting for corporate work with Camille Winston Colter on Bekenstein.
We Shall Party Responsibly: The reason being, there are children attending. It's celebrating Holly's adoption by Asharia.
Private Contractor: The Agincourt gets a temporary crewmember to fill their empty vanguard slot. Who could it be?
But Did You Bring Food: Elara visits Sicaria Perihelion in the hospital, and they talk about various subjects ranging from e-net arguments to Lepantis Corvax's love/hate relationship with Sica.
An Offer: Elara stays the night with Everett Maliszewski, and they decide to form a partnership.
Spectrometers and Squiggly Lines: Elara and Linya meet up, and study a mysterious rock that Elara found in who-knows-where... along with other things.
Blink of an Eye: A routine security gig goes wrong for Elara and Everett when Eclipse jumps in...with messy results.
It's good to have connections: Elara and Everett take refuge in the hold of the Judgement, meeting AEGIS for the first time as well.
A Debt to Pay: Elara and Everett agree to assist in an Eclipse operation in return for cleared records, and Elara meets the last person she ever wanted to see again.
Mother Dearest: Elara and Linya have lunch with Lin's mother, and it goes quite well (to their surprise).
Me, Retire?: But she's been bitten by the love bug...
I Seriously Shouldn't Do This: Elara plots a birthday celebration for her soon to be mother-in-law. Leading into...
You Don't Turn 700 Every Day: The big event! Urdnot Nutanx, Asharia, Najhil Holken, Kenec'Getha nar Iblin and more join the family to celebrate.
Message to Kenec'Getha and Dr Linya M'Tanis: She's going to be gone a few weeks.
Paging User Modulator_Demodulator: Sharing intel with Sarah Skamrev about this Marcus Koren fellow.
Interdaction: Elara's last mission.
In the Event of My Death: Elara's last message.
In Memorium: The memorial service, followed by...
A Wake For A Friend: CDN shows up in force at Aphin's Place for Elara's wake.
I Call the Moxie Toys: Linya and Daia clear out Elara's apartment.