Cerastes (Javan Solh)
Username:
Whiteout.
Species:
Drell.
Age:
Approximately 29-34 years, based on appearances.
Date of Birth:
Unknown.
Occupation:
Private Information Broker.
Location:
Unknown. Post history suggests he is frequently in deep space, potentially in the Terminus System or the Nemean Abyss.
Marital Status:
Dating Shirin Vedral, AKA Epiphany Krayl.
Eye color:
Red.
Height:
6'4".
Build:
Narrow, but well-toned. He lifts.
Affiliations:
The only publicly-stated affiliations he has are to a corporation known as Revenant Co. Although it isn't public knowledge, he frequently works for The Band.
Going by the username of "Whiteout.", Cerastes is an active information broker whose research led him to register on the Cerberus Daily News forums several years ago. He is tight-lipped, manipulative, and cold, and has an unhealthy obsession with violence and control. His habit of staring, strict posture, and verbose speech patterns often alienate him in social environments. Although there is no official documented diagnosis, he suffers from Antisocial Personality Disorder, which has left him with an inability to fully empathize with others. Most people assume he has some form of Asperger's syndrome instead.
It would appear that he doesn't have a very good sense of humor.
Judging the Book By Its Cover
Physically, Cerastes is an unusual creature. He's taller than the average drell, standing at 6'4", and although he used to be rather underweight, a few years of life out in the Abyss have left him with a lean and athletic frame. Most notable about his appearance is his albinism: his scales are as white as a salt flat, tinted only by the occasional hint of yellow and muted reds. He has high cheekbones, narrow eyes, and angular features, with sharp scales and a series of spines lining the back of his head, not unlike an iguana.
Although he doesn't leave much of his hide exposed to the open air, he is absolutely riddled with scars; some are surgical from past operations on his leg, but most are from undisclosed acts of violence.
Biography
Technically-speaking, Cerastes didn't exist until about five years ago.
Had it not been erased from everything saving his memories, Cerastes' public file would have held pages upon pages of foster homes, several incidences of assault as a youth (both caused and received), and a sudden drop off the map in his late teens.
In 2188, Cerastes was 'burned' by an unknown source, and his criminal record was officially released to C-Sec. As a result, he is now on C-Sec's Top Wanted list, and is no longer able to feasibly travel through regulated space. Although the affair was obviously a cause of great ire to Cerastes, he appears to have taken it in stride, isolating himself in the Terminus and Nemean Abyss, where he continues to operate to this day.
His presence in both systems has led to both an enormous boost in his career, and a considerable change in his attitude. Based upon his posting habits, one can deduce that he no longer cares about hiding what he does or who he does it to. Now infamous for both his effectiveness as an information broker and his ruthless methodology, Cerastes is known as a drell you want to have on your side at all times.
Known Criminal Activities
The 2190 Burning of Cartagena - No one is really quite sure what exactly happened, but Cerastes is somehow connected.
Laekle Colony - Cerastes was one of the key members of the orchestrated economic collapse of Laekle Colony.
Kerthos Colony, aka the "Three-Part Disappearance Act" - A recent admission, Cerastes played a central role in the disappearance of Kerthos colony's top three heads of local government.
A Fuckton of Murders - Yeah, this goes without saying.
Arson - Only a little.
Bribery, Extortion, and Tax Evasion - The first two come naturally in his line of work, but the third was merely a case of him being a prick by proxy.
Grand Larceny - Less is known about exactly what all he's stolen, but those credits didn't come from thin air.
Kidnapping - A semi-frequent occurrence, mostly conducted in the pursuit of more dangerous intel.
Torture - See "A Fuckton of Murders".
Connections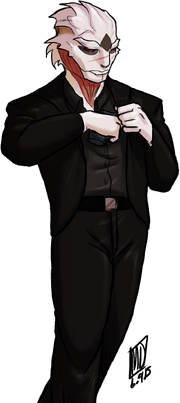 Trivia
"Cerastes" is the name of a Greek snake, said to be capable of startling birds from the air and consuming them. It is also noted for being so flexible and eerie in its movements that it appeared to have no spine.
Due to an "old accident", Cerastes once walked with a limp, favoring his right leg. However, Shirin Vedral paid for a full surgery to replace his knee following his completion of a personal job for her; as a result, he no longer struggles with his gait.
After having disappeared without a trace for roughly two years, he has recently resurfaced without explanation of where he was, or, more importantly, what he was doing.
His albinism has resulted in several optical complications, which explains why his sight is limited in brightly-lit areas.
He has a neural processing implant that helps him to constantly multitask and react to situations faster than an unaltered sapient.
Despite his dour nature, Cerastes has a mischievous streak a mile long, and frequently pranks people he knows. For example, he is solely responsible for the squirrel infestation of Old Nos Astra.
He was once featured in Fornax, albeit without his consent. Lydia was responsible for the publication.
Ad blocker interference detected!
Wikia is a free-to-use site that makes money from advertising. We have a modified experience for viewers using ad blockers

Wikia is not accessible if you've made further modifications. Remove the custom ad blocker rule(s) and the page will load as expected.