Baram Har-rok is a batarian from the
Technocracy of Valkar
, a Terminus nation. He's worked for many years as a
Gar'sha
, a form of Valkarin lawkeeper devoted mainly to maintaining peace on the frontiers of Valkar's growing borders. Valkarin born and raised, it wasn't until his later years that he ever ventured out of the Technocracy's territory.
Typically a peaceful and amicable individual, if a little terse at times.
Currently fulfilling typical Gar'sha missions outside of Valkarin space; namely the pursuit, capture and return of Valkarin fugitives from justice.
Trivia
He admitted to being pretty good with a Khatet -- a wind instrument, similar to the human harmonica.
Threads of Note
Two Cyberblinks Walk Into A Warehouse: Baram meets with Mekan of Omega.
Triad: In The Element: Making plans with Mekan, Wash, Dass and Chez Chezlin. Leading to...
Triad: Opening Night: The raid on a warehouse in Dahsa'dal District becomes a little complicated. After all, both Titan Corporation and the Camalan Grusto are involved.
Watchful Eyes and Honoured Hearts: On Illium to track members of the Clans of Anjul, Baram attends the Nos Astra Police Department Fundraising Gala, and reconnects with Mekan.
Stalkers: Baram "plays dad" again, as Mekan and others get entangled in the agenda of The Ghul. If they're going to do this, they may as well have someone who knows what he's doing.
Murderhobo Priorities: Baram continues to watch over Mekan, following on from Muckracker, who is "mom" to his "dad".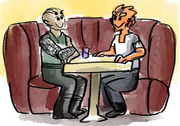 The Best Kind of Medicine: Baram meets Fadil Mahd at an Illium bar.
Mekan's War: Baram tries to defend a very stressed Mekan amid fallout from the disastrous mission that began the Systems Alliance-Vies War of 2190.
Birthday: Baram buys Mekan a shuttle. It has an unusual name.
Return: After a few years away, Baram returns to CDN during a difficult time for Mekan, as the other regulars discuss.