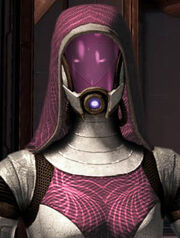 17-year-old Arla'Neeri nar Vanagandr was sent out on her pilgrimage completely oblivious to the world. After almost being abducted by a Turian gang on lower Tayseri, Arbitrary rescued her and began taking care of and tutoring her. Now on indefinite loan to SOS she continues to hone her skills and develop her Mercenary career. Has serious past issues she covers up with her optimistic outlook.
Ad blocker interference detected!
Wikia is a free-to-use site that makes money from advertising. We have a modified experience for viewers using ad blockers

Wikia is not accessible if you've made further modifications. Remove the custom ad blocker rule(s) and the page will load as expected.