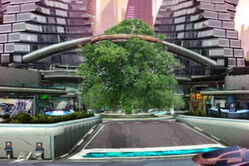 Areopagus Technology Park
is a commercial complex in
Nos Astra
,
Illium
, consisting of two office towers, and ground-level retail outlets surrounding a landscaped public plaza. The complex is a recent construction, part of the post-war expansion of Nos Astra (formerly Nos Varda) north-east towards the Gemstone Lakes.
The two office towers are named Jade Tower and Viridian Tower, after the twin seas south and south-west of Nos Astra. The complex is constructed with an asymmetric skyline profile, with Jade being the taller of the two towers. The complex's administrative offices are situated in Viridian Tower. The ground level plaza, arranged around a whisper oak transplated from Skyward Forest, several hundred miles from Nos Astra.
In keeping with the complex's name and intended public image, tenant applications from companies involved in technology development and applications are given preferential consideration. The plaza, however, is intended as a social gathering space, and as such a wider range of consumer service businesses are considered appropriate.
Tenants
Jade Tower
Envirometrics is an environmental systems company, specialising in quarian clean-rooms.
Gentle Currents Aquadynamic Technologies is a hanar-owned firm, catering to the submerged settlement in the Gemstone Lakes.
Echomire Freight Engineering is a division of Echomire Fleet Systems, designing automated freight handling systems for commercial cargo vessels.
Serious Cybernetics is an innovative manufacturer of high-end gaming peripherals.
Arrow Mass Transit Maintenance is a maintenance contractor, currently involved with the light maglev commuter network.
Viridian Tower
Valdeen Architects focus on office buildings with an emphasis on unique character and marketability, and oversaw the design of Areopagus itself.
Kallaye Colson Technology Law is a legal firm specialising in matters related to consumer and civic technologies.
Tiny's Used Spacecraft is a second hand light spaceship dealer, owned and operated by the eponymous Tiny (also the owner of Tiny's Holodisk Shop).
Viridian Tower also houses a number of fully outfitted office spaces available for short-term rental, for use by merchants and other travellers requring facilities to do business during short visits.
Plaza Shops
Kaga's Mobile Café is an open air restaurant/diner run by a colourful krogan chef.
Nos Astra Gift Bazaar is a memorabilia shop; owing to a shipping error, its stock currently consists almost entirely of model starships and fish, but trade is oddly brisk regardless.
Tyex Home Entertainment is a retail outlet for Tyex brand home cinema and entertainment systems.
Bright Frontier Genetic Consulting is a medical outlet specialising in advising clients seeking elective genetic modifications.
Ort Nimbus Tea House is a traditional elcor tea house.
Kiosks
In addition to the retail outlets, the plaza houses a number of commercial kiosks, supervised by sales representatives, or in some cases tailored VIs. These consist simply of a sales interface, catalogue, and advertising displays, and are leased by companies with offices elsewhere.
Sunderland Hiking Tours
Armali Council
Lokmar Microtechnology
Illium Entertainment
Iskadra Technologies